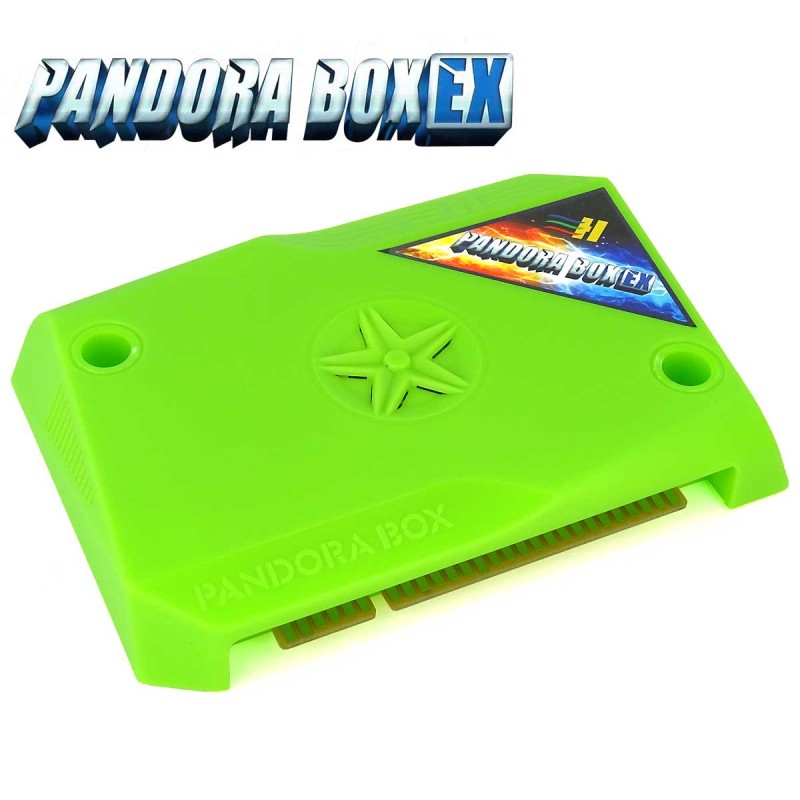  
Pandora Box EX - 3300 in 1 Multigames Jamma Board
By buying this product you can collect up to 16 points. Your cart will total 16 points that can be converted into a voucher of €0.48.
VAT included
Pandora Box EX Jamma Version 3000 in 1 horizontal Multigames board compatible with VGA / HDMI resolution. All wiring connection harness and power supply is included in the price.
1 year warranty

Shipments in 24h / 48h

15 day return policy
Description - Pandora Box EX - 3300 in 1 Multigames Jamma Board
WARNING, this version of Pandora Box is not compatible with CGA Arcade Monitors, only with HDMI / VGA monitors. 
This is the last version of EA GAMES' Original Pandora BOX multigame board. The Pandora's Box EX 3300 in 1 JAMMA Edition. This multigame board has 3300 horizontal games of which 58 are 100% 3D games. The Pandora BOX EX not only has Arcade games, we can also find a fine collections of console games. This board has games from the following consoles and emulators: FBA / MAME / PS1 / SFC / SNES / FC / MEGA / N64 / PSP / DC.
The Pandora Box EX 3300 in 1 JAMMA EDITION supports VGA 1280 x 720 video resolution and HDMI 1920 x 1080 / 1280 x 720 resolution video output. The board has 1 x 28pin JAMMA connector,  1 x VGA and 1 x HDMI video output connector. This versatile multigame board can be installed directly inside an Arcade cabinet, Bartop or similar project that has a VGA or HDMI monitor.
One of the interesting new features of this multigames board that deserves to be mentioned is the possibility of selecting the language in several languages: English, Spanish, Chinese, Korean, Japanese, Chinese, Korean and Japanese. In addition, the board has a TIMER function in case we want to activate games by time and not only by inserted credit. One of the features that we liked the most is that this Pandora saves our HIGHSCORE. Something not seen in many other Multigame boards. 
The Pandora BOX EX is compatible with up to 4 players playing at the same time. This is thanks to the possibility of connecting 2 USB gamepads or Fighsticks to the board, in addition to the 2-player controllers through the GPIO connector.
The Pandora's Box EX 3300 en 1 JAMMA Edition has an "image enhancement" option that can be activated or deactivated in the configuration menu. This option basically adds a smoothing filter to the graphics of the games and blurs the pixels. Another feature of this board is that it has also added the option to activate Scanlines kind of like an old CRT TV, giving us a more retro feeling if possible, when playing our great classics.
In regards to the performance of this board, we can see a clear improvement over previous installments, especially with regard to 3D games. The Pandora Box EX board sports a CPU Quad-core Arm Cortex A55 2. 0GHz, a MALI-G31 MP2 Quad-Core GPU, 4G and 8GB of DDR4 RAM, that is 6 Gigs of RAM more than in the latest Pandora BOX DX. We didn't notice LAG or Tearing in any of the games we tested, including the 3D games, nor did we notice sound deficient sound.
The Pandora Box EX also has the option to customize our controllers and the option to organize the list of games by genre: fighting, puzzle, action, sports, etc... or in alphabetical order. Another feature we can find in this board is that it has the PAUSE function also in Arcade games. Difficulty, number of lives as well as editing the list of games and hiding the games that we do not want to appear in the gamelist if fully configurable.
As for the sound, this is the first Pandora Box that has 7.1 Surround Sound. The board has its own internal sound amplifier, so all you have to do is connect a minijack cable to the jack output of the PCB.
Features
3300 Horizontal games
58 3D games
Languages: English, Spanish, Korean
Highscore Record Save / Auto Score Save
Savestate / Loading Games
Smart Game list
Game pause
2 USB Joystick input
HDMI / VGA video connector 
Games can be added
Up to 4 players in over 100 games
Easy game selection menu
Games can be hidden
Configurable buttons
Each game is configurable (difficulty, speed, number of lives, etc.)
Freeplay / Credits mode
Scanlines option 
Timed mode / TIMER
Supported emulators: FBA / MAME / PS1 / SFC / SFC / SNES / FC / MEGA / N64 / PSP / DC
Technical Specifications
Audio

7.1 Surround Sound / Amplified mini-jack

Connector

28pin JAMMA

Color

Green

Compatibility

VGA / HDMI

CPU

CPU Quad-core Arm Cortex A55 2.0GHz

Dimensions

180 x 120 x 35mm

GPU

GPU MALI-G31 MP2 Quad-Core 4G

Memory

8GB DDR4 / 2666Mhz

Weight

300gr

Resolutions

HDMI 1920 x 1080 / 1280 x 720 - VGA 1280 x 720
Extra content