 
End of Stroke Switch Leaf for Pinball Button Williams
No reward points for this product.
VAT included
Bally / Williams brand End of Stroke Switch Normally Open for Pinball button.
You may also be interested in
1 year warranty

Shipments in 24h / 48h

15 day return policy
Description - End of Stroke Switch Leaf for Pinball Button Williams
Most flippers in pinball machines have an "end of stroke" (EOS) switch for each flipper. This switch is located under the playfield near the flipper coil, and it is physically activated by the flipper mechanism once it has rotated fully into the "up" position. The EOS system is employed on certain solenoids such as score reels and some pop bumpers. It can also be used for your left and right flipper buttons instead of using a standard microswitch. 
The original Pinball buttons of the left and right flipper don't usually have micro-switches mounted but Leaf Switches These provide a completely different feeling to that of an arcade button and a very different type of response when actuated. For starters, you won't feel the clicky sound of the microswitch when pushing the button. In addition, we can adjust when we want the leaf to actuate with the button. We can adjust the Leaf of the switch so that the button has to be pressed all the way down for it to respond or, on the contrary, so that it responds immediately by adjusting the Leaf closer to the button itself. On the downside we could say that leaf switches require some maintenance as the leaf itself can get out of adjustment over time. This is not the case with microswitches used in arcade buttons.
Features
Imported from the USA
Compatible with original Stern, Bally / Williams Pinballs
Premium brand quality
Super sensitive and fast Switch Leaf
Tungsten contacts
Fits many applications
Compatible with our Pinball buttons
Technical Specifications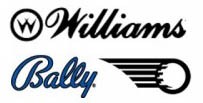 Compatibility

Stern, Williams / Bally, others

Style

End of Stroke Switch Leaf

Length

7cm

Weight

10gr

Button type

Pinball
Extra content