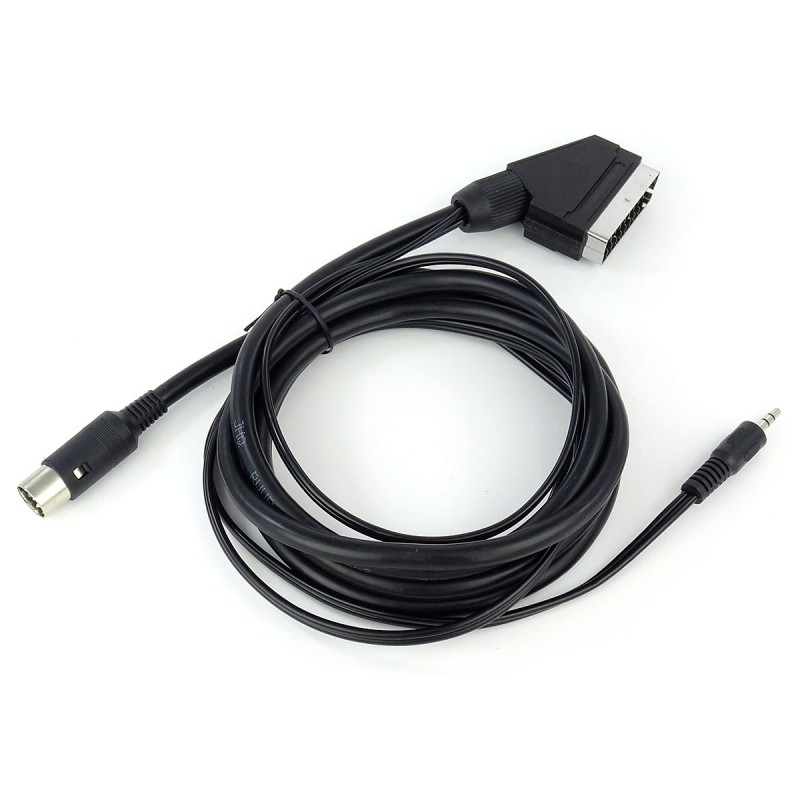  
Stereo Sound Express Pro Mega Drive 1 / Genesis / Master System RGB Scart Cable
By buying this product you can collect up to 6 points. Your cart will total 6 points that can be converted into a voucher of €0.30.
VAT included
Real RGB cable with SYNC in LUMA for your SEGA Mega Drive / Genesis Model 1 and Master System console with separate stereo audio cable. These cables are manufactured and designed by Arcade Express. These are 8 core double shielded cables of the highest quality with a PCB designed and manufactured by us that is located inside the euroconnector (SCART). 
You may also be interested in
1 year warranty

Shipments in 24h / 48h

15 day return policy
Description - Stereo Sound Express Pro Mega Drive 1 / Genesis / Master System RGB Scart Cable
The SEGA Mega Drive console has by default a DIN-V connector with RGB output video quality. With this RGB Scart cable for the SEGA Mega Drive model 1 and Sega Master System you can now take advantage of the full potential of your console. 
The Express Pro is the definitive SCART cable, fully designed by Arcade Express. This double-shielded cable supplies an RGB video signal and Stereo Sound (Minijack connector) to your SEGA Master System 1 / Genesis 1 / Mega Drive 1. The manufacture of this cable is made with components of great quality: cables much thicker than those used in common cables and with double shielding for the isolation of possible interferences and noise in the image. As a result, we obtain a superb, sharp and bright image.
This high quality cable provides a synchronization signal in LUMA. Inside the cable there is a PCB designed by us with its corresponding resistors and capacitors to ensure proper synchronization and clean signal with no interferences. The SCART connector is fully wired/grounded to the PCB.
Our cable is also the one with the DIN-V connector in V shape and not the DIN-C in C shape, which despite being compatible and being sold in many stores, does not fit perfectly in the console, having to force the video input connector with the danger of damaging the console.
If you are a purist and want to remember good old times, or simply play as reliably and with the best quality as possible, don't think twice, this is the cable you need. The perfect cable to connect to a CRT TV and enjoy the legendary colour palette of the SEGA Mega Drive in games such as Streets of Rage 2, The Revenge of Shinobi, Altered Beast and Aladdin, among others. 
Bring your old console to life with this cable that will give you RGB quality video. About as good as it gets!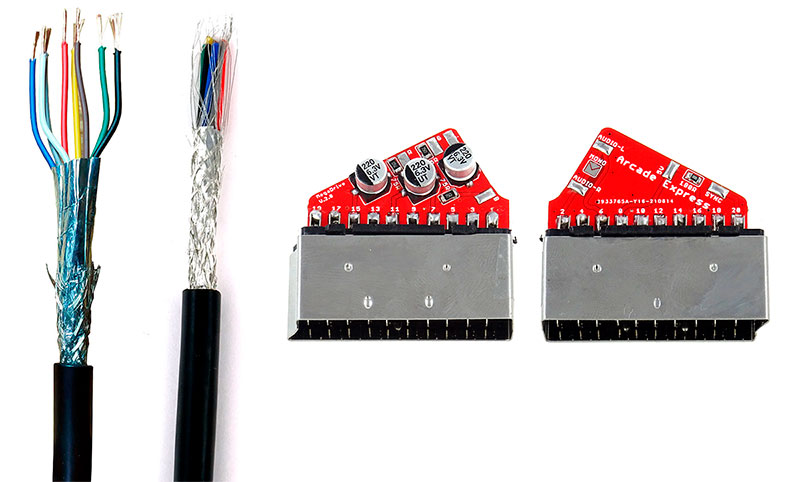 Features
Compatible with: SEGA Megadrive / Genesis / Master System models 1
8-pin V-shaped connector
No tuning required, plug and play
Stereo Sound (Minijack connector)
True RGB video and mono sound. We also offer a stereo sound version for Genesis 1 / Mega Drive 1 only
Fully wired/grounded SCART connector via a custom printed circuit board (PCB)
SYNC on LUMA
High quality capacitors
180cm long

This cable is not compatible with Master System Model 2 or Mega Drive Model 2
Technical Specifications
Shielded cable?

Yes. Double shielding

Connector A

Large 8-pin V-DIN

Connector B

EuroSCART with integrated PCB

Region compatability

PAL / NTSC / SECAM

Cable length

170cm

Weight

85gr

Sync

Sync in Luma

Audio type

Stereo

Videoconsole

Mega Drive 1 / Genesis 1 / Master System
Reviews
By
Chris N.
(Bedfordshire, United Kingdom) on 18 Jan. 2022 (
Stereo Sound Express Pro Mega Drive 1 / Genesis / Master System RGB Scart Cable
) :
gran euroconector
Un euroconector de gran calidad con mucho largo para cualquier espacio.
Es difícil encontrar un cable RGB de sincronización en luma para Megadrive, así que me complace decir que funciona muy bien.