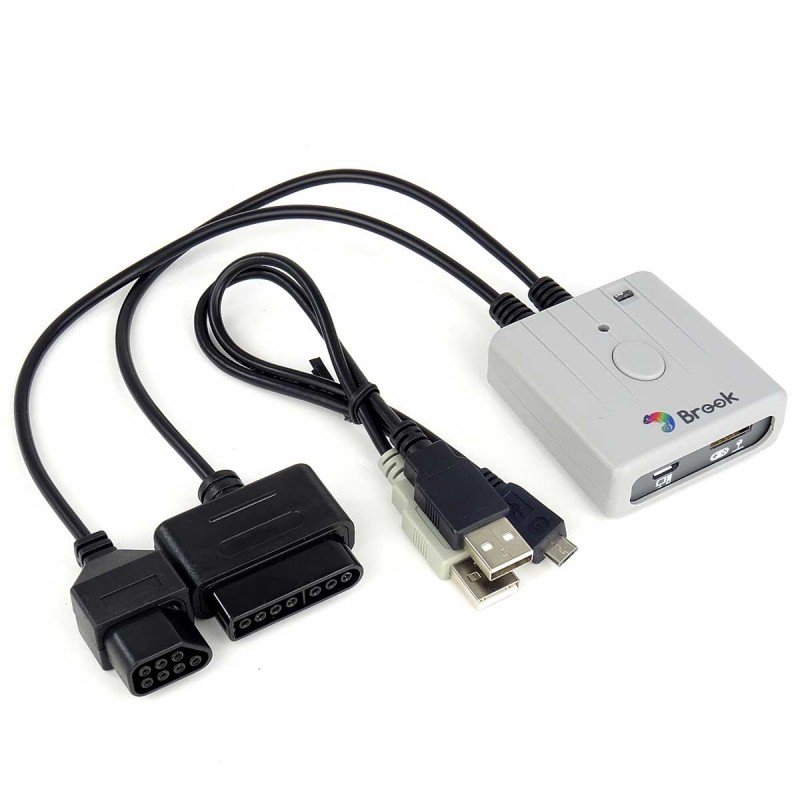  
Brook Wingman SNES PS5/PS4/PS3/XBOX Series X/S/Xbox360/Xbox One/Switch Pro to NES/SNES/SNES/SFC
By buying this product you can collect up to 7 points. Your cart will total 7 points that can be converted into a voucher of €0.21.
VAT included
Connect your PS5, PS4, PS3, XBOX Series X/S/Xbox360, Xbox One, Switch Pro controllers directly to your NES / SNES / FC / SFC / ANALOGUE NT MINI / HYPERKIN RETRON 3 console...
You may also be interested in
1 year warranty

Shipments in 24h / 48h

15 day return policy
Description - Brook Wingman SNES PS5/PS4/PS3/XBOX Series X/S/Xbox360/Xbox One/Switch Pro to NES/SNES/SNES/SFC
The Brook Wingman SNES Converter adapter is a device designed to allow retro gamers to use their latest controllers on their older consoles, such as the NES, SNES, FC and SFC.
This adapter-converter is compatible with new generation controllers such as the Xbox X|S Series (wired use) / Xbox 360 / Xbox One (wired use) / Xbox Elite (wired use) / Xbox Elite Series 1 and 2 (wired use) / PS5 / PS4 / PS3 / Switch Pro and arcade stick to use them on your "retro" consoles NES / SNES / FC / SFC / ANALOGUE NT MINI / HYPERKIN RETRON 3. The Brook Wingman SNES is also compatible with more than 130 peripherals, controllers or arcade sticks on consoles such as the NES / SNES and its Japanese versions FC / SFC. Immerse yourself in the amazing pixel world with your latest generation controllers!
Thanks to the latest firmware update (V1.2.8), the Wingman SNES offers compatibility with a wide range of console gamepads, including the "PDP Controller" and the "ZCity Controller", both for Nintendo Switch, making this option one of the best on the market.
The firmware update of this adapter-converter is carried out by connecting to a PC with Windows or Mac-OSX system. This update will improve and expand the functionality of our controllers or gamepads, thus improving their performance and correcting possible errors and ensuring that the adapter continues to function properly as new updates or changes are released in the compatible controllers.
Another great feature of this adapter is that the protocol used in the PC controller is X-Input instead of D-Input, so we will have all the special functions that our gamepads may have when connected to a PC through our SNES Wingman.
Due to the latest technology developed by Brook, this incredible multiplatform adapter-converter presents a minimum latency, practically imperceptible, so the LAG when using our controllers can be said to be almost null. It offers a gaming experience equal or even better than the original, with fast and accurate button and joystick response, allowing users to enjoy their favorite games without interruptions or delays.
Brook Wingman SNES also integrates the "Turbo" and "Remap" functions to the controllers, thus modifying the traditional game settings and creating a totally new experience, making games much more interesting and manageable by unleashing the full potential of our controllers.
The Turbo and Remap functions are common features on many modern gamepads. Both allow gamers to customize the way they play their games. So, the Turbo function allows gamers to assign an action to a button on the gamepad so that it automatically repeats as long as it is held down. This can be useful in games that require players to repeatedly press a button to perform a specific action, such as running or shooting. With the Turbo function, players can perform this action without having to repeatedly press the button, which can be less tiring for the fingers and improve game efficiency.
On the other hand,the Remap function allows players to reassign actions to buttons on the gamepad. For example, if a player prefers to use a different button to jump in a game, they can reassign the jump button on the gamepad to be activated by pressing a different button. This feature allows gamers to customize the gamepad to suit their individual preferences and increase their gaming comfort and efficiency.
All in all, the Wingman SNES Converter adapter is an excellent choice for retro gamers who want to give a new life to their "old" consoles, being able to play them with the latest gamepads.
Compatibility
Microsoft Xbox 360 / Xbox One (Bluetooth model) / Xbox Elite 1 and 2 / Xbox S/X series controllers.
Sony Playstation 3 , Playstation 4, Playstation 5 controllers
Xbox 360 Game Receiver and Xbox Adaptive controller.
Nintendo Switch Pro PDP Controller and ZCity Controller controllers
Windows 10
Important
Each SNES Wingman can only be connected to a single device. Supports most compatible accessories with the original factory specifications. To expand the number of compatible accessories, the firmware is updated on a regular basis.
Wireless connection records between an Xbox One Wireless Controller (with Bluetooth function)/Xbox One Series 2 and the SNES Wingman will be erased if a wired connection is used. Re-pairing the wireless connection will be required if a wireless connection is used.
If using the Xbox One Elite Series 2 controller, disable the controller profile settings to avoid interference with the Turbo or Remap settings on the Wingman SNES. Since the Xbox One Elite Series 1 controller cannot disable the profile settings, using the Xbox One Elite Series 1 controller could cause the Remap function to overlap.
If you use the PS3 / PS4 / Switch Pro wireless controller, we must first connect it as if it were a wired controller via USB and then remove the cable.
Some devices with high power consumption, such as the Switch Pro controller, require an external USB power supply for normal use.
Please check product compatibility on the official Brook website before ordering, as NOT all brands or models of controllers / steering wheel / Joystick are compatible with the brook adapter.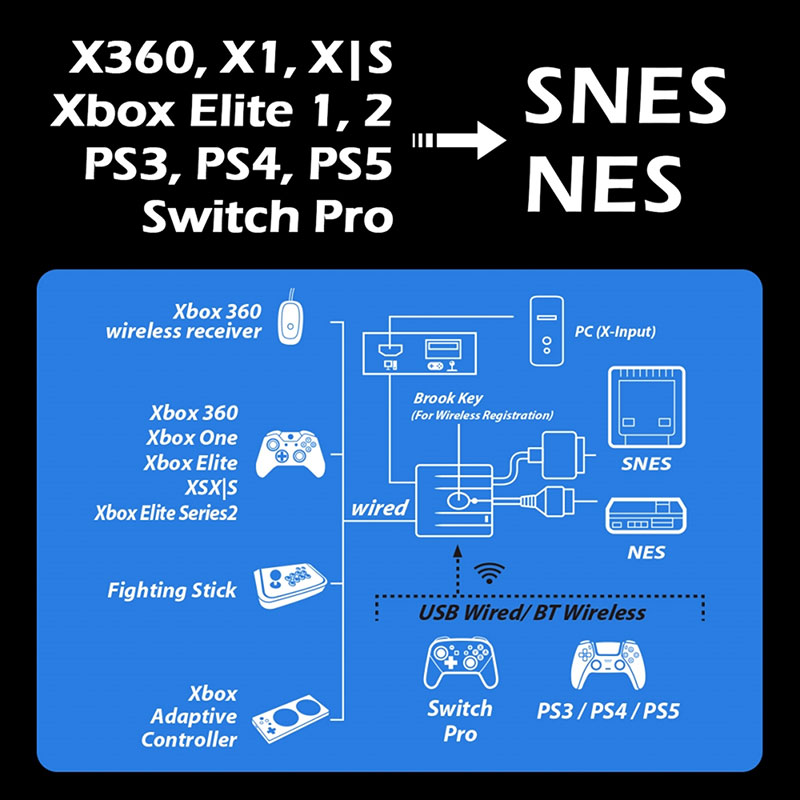 Features
Compatible with gamepads and Arcade Sticks
Automatic controller detection
Optimal button assignment
Hot-swapping
Turbo function
Remap function
X-Input support (PC connection)
Plug & Play
Stable and low latency
Support 125+ different controllers
Compatible with NES, SNES, NewFC, SFC, Nt mini analog, Hyperkin RetroN3 consoles
Technical Specifications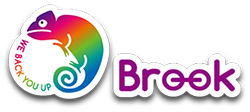 Connector A

NES

Connector B

SNES

Color

White

Compatibility

PS5/PS4/PS3/XBOX Series X/S/Xbox360/Xbox One/Switch Pro

Measurements

58 x 54 mm

Weight

131gr
Extra content