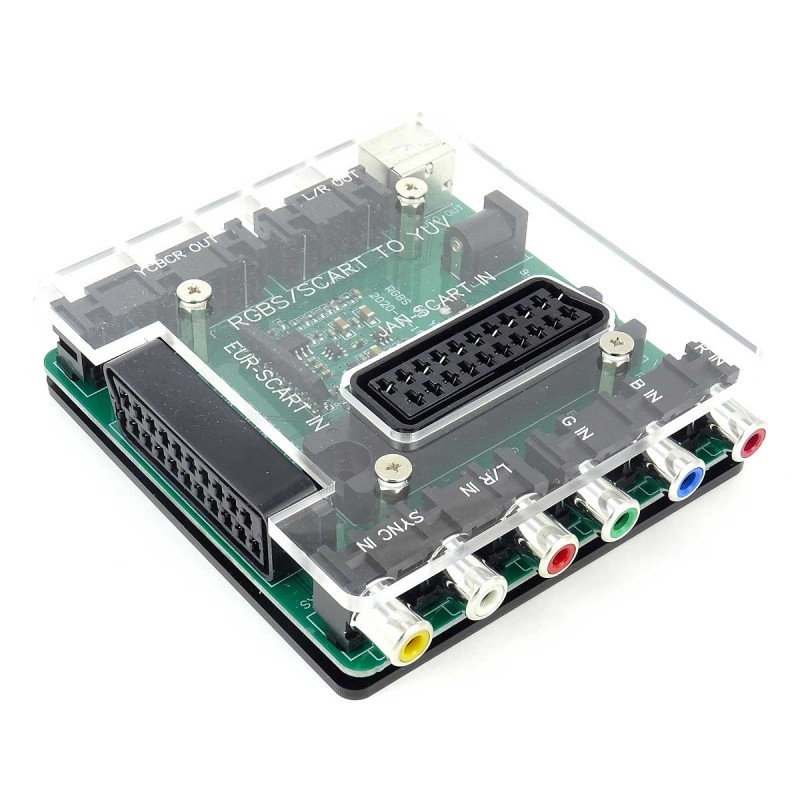  
RGBS / SCART to YCBCR / YPBPR / S-Video converter adapter
By buying this product you can collect up to 8 points. Your cart will total 8 points that can be converted into a voucher of €0.24.
VAT included
RGBS / SCART video input to YCBCR / YPBPR / S-Video output Video converter. The perfect product to connect your retroconsoles to NTSC TVs and PVMs.
You may also be interested in
1 year warranty

Shipments in 24h / 48h

15 day return policy
Description - RGBS / SCART to YCBCR / YPBPR / S-Video converter adapter
The RGBS / SCART / YCBCR / YPBPR / S-Video Converter will allow us to connect a retro console through the SCART (Euroconnector) connector and convert the signal to component video (YCBCR / YPBPR) and S-video with a highest quality signal without any noise or interference. 
The RGBS / SCART / YCBCR / YPBPR / S-Video video converter board is aimed to customers who are going to use televisions that do not have SCART input or PVMs (Professional Video Monitor) such as the Sony brand ones. These professional video monitors do not have SCART input and use RGB / Component video input.
This great video converter is fully compatible with video signals and low resolutions typical of the consoles of the time. These are all the resolutions supported by this converter:  240P/480i/480P/576i/576P/720P/1080i/1080P. In addition, this superb video converter supports Japanese standard scart/standard and European standard scart/RGBS input. It is also compatible with scart and rgbs video input signals in pal and ntsc formats. This is extremely important since many of the retroconsoles we buy and use are the American or Japanese versions with NTSC signals at 60Hz.
The RGBS / SCART / YCBCR / YPBPR / S-Video Converter is very easy to install and it is 100% Plug & Play. There is no need to install any kind of drivers or software for the board to work normally and with all its functionalities.
NOTE: The s-video output must be synced as AV signal for normal use, it cannot be used as pure sync. Otherwise, the screen will appear black and white. The video converter also needs a 9V-12V power supply which can be purchased by clicking on this LINK.




Features
Converts SCART video signal to high quality component video YCBCR/YUV and S-Video
Compatible with video signals: 240P/480i/480P/576i/576P/720P/1080i/1080P
Power supply not included
Lossless quality signal
Plug and play device
Compatible with scart and rgbs video signals / pal and ntsc formats
Compatible with consoles such as Sega MD/SS/DC/PS/PS/SFC
Supports European standard scart/standard Japanese scart/RGBS scart input
Technical Specifications
Power

9V-12V

Connector

SCART / RCA

Color

Green

Compatibility

PAL / NTSC - 50Hz / 60Hz

Material

PCB / Plexiglass

Measurements

100X90X25mm

Weight

126gr

Resolutions

240P/480i/480P/576i/576P/720P/1080i/1080P
Extra content