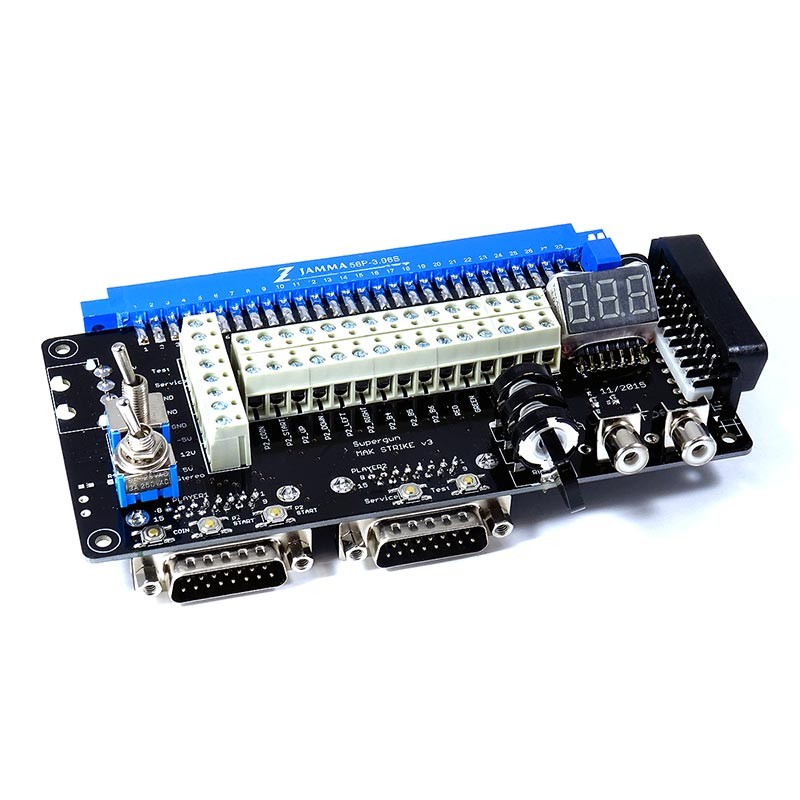  
Arcadeforge Supergun MAK Strike V3
By buying this product you can collect up to 17 points. Your cart will total 17 points that can be converted into a voucher of €0.51.
VAT included
Amazing super high quality Arcade Supergun MAK Strike V3 from Arcadeforge.
You may also be interested in
1 year warranty

Shipments in 24h / 48h

15 day return policy
Description - Arcadeforge Supergun MAK Strike V3
Arcade Express is proud to be the official distributor of ArcadeForge.net in Spain. We are pleased to bring its very interesting products to all our devoted retro-gamers. This time we bring you a premium product of the highest quality, designed for the most purist gamers who enjoy playing with Multigame boards and Original Jamma PCBs: The Supergun Mak Strike V3.
With this Supergun you'll be able to connect your Original Jamma Boards to a CRT TVs with SCART video input connector or more modern ones but that support SCART 15Khz input video. You can also use a PVM but you will need a SCART to BCN cable adapter. Thanks to this magnificent Supergun, you will enjoy an amazing video image quality on your monitors, true to the original with the best and most vivid RGB colours.
The MAK Strike V3 Supergun has SCART video output that includes the features of switching your TV to RGB /AV mode automatically. This is thanks to the voltage amplifiers built into the PCB.
To output Audio you can get the Audio directly from the SCART connector and also from the 2 RCA connectors (left - right) built into the board. Sound can be obtained in both Stereo and Mono modes according to the users preference and characteristics of your JAMMA Board.
This Supergun is compatible with standard Jamma boards and Neo Geo SNK boards, if you have the necessary JAMMA adapter. To power the MAK Strike V3 Supergun you only need a computer power supply with a MOLEX connector, connect a MOLEX adapter to an Arcade Power Supply or use our Molex Power Supply that we sell here. This great Supergun also has a small LED display that informs the user of the voltage and the on/off status of the Supergun.
The game controls can be handled via the JAMMA wiring or by the 2 x D15P connectors for NEOGEO SNK controllers. If you want more compatibility, you have the possibility to purchase an adapter that will allow you to connect the controllers of the Super Nintendo to the Supergun or our USB to NEO GEO Controller adapter. The SNES to NEO GEO adapter can also be purchased in our store by clicking here.
The MAK STRIKE V3 Supergun also includes a potentiometer attached to the PCB with which you can adjust the hue of RGB colours according to the needs of each Jamma board. 
This amazing Supergun board supports up to 6 action buttons per player.  The Player 1 & Player 2 Start buttons and the Coin, Test and Service Mode buttons can be connected via the screw terminals located on the the board or you can directly interact with these functions with buttons already integrated into the PCB.
Jamma Interface
| | | | |
| --- | --- | --- | --- |
| Parts Side |   |   | Solder Side |
| GND | 1 | A | GND |
| GND | 2 | B | GND |
| +5V | 3 | C | +5V |
| +5V | 4 | D | +5V |
| -5V | 5 | E | -5V |
| +12V | 6 | F | +12V |
| NC | 7 | H | NC |
| Coin Counter 1 | 8 | J | Coin Counter 2 |
| Lock Out 1 | 9 | K | Lock Out 2 |
| Speaker +, Audio L | 10 | L | Speaker - |
| Player 1 Button 6 | 11 | M | Player 2 Button 6 |
| Video Red | 12 | N | Video Green |
| Video Blue | 13 | P | Video Sync |
| Video GND | 14 | R | Service Switch |
| Test Switch | 15 | S | Slam Switch |
| Coin Switch 1 | 16 | T | Coin Switch 2 |
| Player 1 Start | 17 | U | Player 2 Start |
| Player 1 Up | 18 | V | Player 2 Up |
| Player 1 Down | 19 | W | Player 2 Down |
| Player 1 Left | 20 | X | Player 2 Left 2 |
| Player 1 Right | 21 | Y | Player 2 Right |
| Player 1 Button 1 | 22 | Z | Player 2 Button 1 |
| Player 1 Button 2 | 23 | a | Player 2 Button 2 |
| Player 1 Button 3 | 24 | b | Player 2 Button 3 |
| Player 1 Button 4 | 25 | c | Player 2 Button 4 |
| Player 1 Button 5 | 26 | d | Player 2 Button 5 |
| GND | 27 | e | GND |
| GND | 28 | f | GND |

MAK Strike Controller Port Pinout
| | | |
| --- | --- | --- |
| DSUB 15 pin | Neo Geo | MAK STRIKE |
| 1 | Ground | Ground |
| 2 | NC | Button 5 |
| 3 | Select | Coin |
| 4 | D | Button 4 |
| 5 | B | Button 2 |
| 6 | Right | Right |
| 7 | Down | Down |
| 8 | 5V | 5V |
| 9 | D | NC |
| 10 | NC | Button 6 |
| 11 | Start | Start |
| 12 | C | Button 3 |
| 13 | A | Button 1 |
| 14 | Left | Left |
| 15 | Up | Up |
Features
Manufactured in Germany
Supports SCART input with automatic switching to AV/RGB channel
Select between Stereo Audio and Mono
SCART with Audio Support
RCA Audio accessible from terminals
5V LED Display
Power via MOLEX connector
On/Off Switch
2 Ports for NEOGEO SNK D15P Pads/Joysticks
Buttons for Start Player 1, Start Player 2, Coin, Test and Service Mode
RGB adjustable by potentiometer
6 action buttons per player
Technical Specifications

Height

3.8cm

Width

15.8cm

Buttons

6 per player

Connector

56-pin Jamma

Color

Black

Compatibility

SCART TV

Length

9.5cm

Weight

160gr
Specific References
EAN13

8436593082147
Extra content