 
Zippy Rod Roller Lever endstop Microswitch 4.8mm
1 X Zippy Rod Roller Lever Microswitch model VM-05S-06D0-Z with 4.8mm wide terminals and super soft actuation force.
You may also be interested in
1 year warranty

Shipments in 24h / 48h

15 day return policy
Description - Zippy Rod Roller Lever endstop Microswitch 4.8mm
High quality super soft Rod Roller Lever Zippy Microswitch. You are looking at a Microswitch with only 50gr of actuation force. These Microswitches are compatible with Videosonic controllers and special joysticks such as those used in racing games. These Microswitches are the same as the ones you can find on the Out-Run shift joystick available at Arcade Express.
The Zippy Microswitches brand will amaze you with their high manufacture quality and their smooth and silent pulsation, compared to other budget OEM microswitches.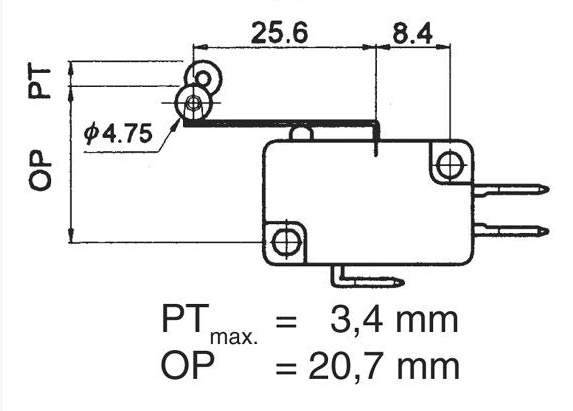 Features
Zippy Microswitch
4.8 mm terminals
Nominal charge 5A 125/250VAC
Contact resistance 30m Ω (Max.)
Insulation resistance ≥100mΩ
Actuation force 50gr
Mechanical life ≥ 10,000 cycles
Operating temperature -25 ~ +85 ?
Supports 50-60Hz) voltage... AC 1,000V RMS
Technical Specifications
Extra content