 
Zippy Ultra Light Touch 4.8mm button microswitch VM-05B
1 X Ultra-light Zippy microswitch for buttons with 4.8mm wide terminals. This microswitch has a 20gr actuation force making it an Ultra Light Touch microswitch.
You may also be interested in
1 year warranty

Shipments in 24h / 48h

15 day return policy
Description - Zippy Ultra Light Touch 4.8mm button microswitch VM-05B
The amazing VM-05B Ultra Light Touch Zippy microswitch at an unbeatable price. These microswitches can be installed in any arcade happ type buttons or in classic ILs Eurojoystick 2. With an operating force of only 20gr, the user will be amazed once he tests these super light switches. 
Zippy Microswitches have nothing to envy from the famous and classic Cherry microswitches. In fact, Zippy is the brand that has been supplying microswitches to Suzo HAPP joysticks and push buttons since they stopped using Cherry parts. 
You are looking at a super light touch microswitch. Just so that you can have an idea, the Cherry Micros D44X have an operating force of 75gr while the Zippy micros have an actuation force of only 20gr. They also have a service life of 10,000 and support a voltage of 50-60Hz.
Zippy's VM-05B Arcade Pushbutton Microswitches come with 4.8mm wide terminals so when purchasing, please notice this to see whether they match the existing Jamma wiring in your Arcade Cabinet, USB encoder or any other devices.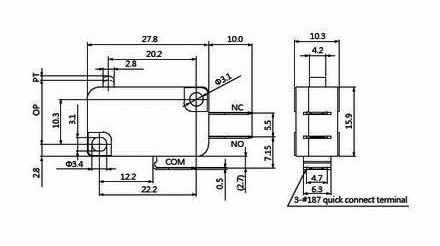 Features
4 x Zippy Microswitches
4.8mm terminals
Nominal charge 5A 125/250VAC
Contact resistance 30m Ω (Max.)
Insulation resistance ≥100mΩ
Operating force 20gr
Mechanical life ≥ 10,000 cycles
Operating temperature -25 ~ +85 ?
Supports 50-60Hz) voltage... AC 1,000V RMS
Technical Specifications

Connector

NO / NC / GND

Color

Black

Compatibility

Button / Eurojoystick 2

Weight

6gr

Terminals

4.8mm
Extra content