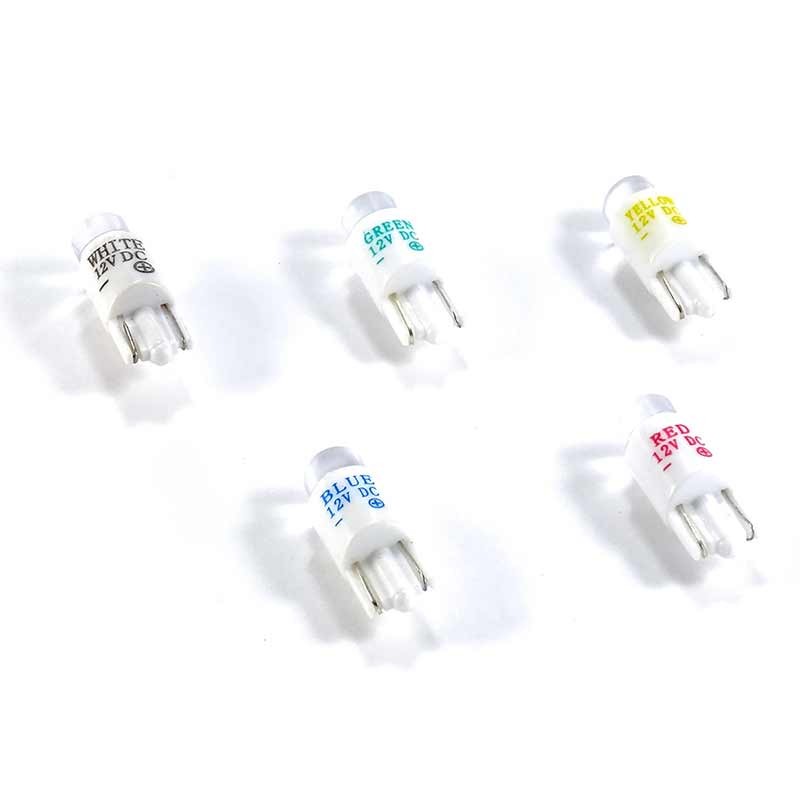  
4 x 5V - 12V LEDs with diffuser for illuminated arcade button
Set of 4 X 12V leds with diffuse in 5 different colours compatible with all our illuminated buttons.
You may also be interested in
1 year warranty

Shipments in 24h / 48h

15 day return policy
Description - 4 x 5V - 12V LEDs with diffuser for illuminated arcade button
Arcade Cabinets, Bartops and Pinballs with illuminated push buttons are a real gem. If you are one of those retrogamers with enough patience that has set up and configured a fully illuminated arcade control panel, this is your product.
LEDs sometimes stop working or come faulty from factory. With this set of 4 x LEDs with T10 socket and diffuser you will always have a spare part in case something fails.
The T10 LEDs with diffuser sold at Arcade Express allow for a higher quality and better distributed lighting. These LEDs can be illuminated with a voltage between 5V and 12V, depending on your desired intensity of the lighting. The higher the voltage the higher the lighting intensity.
The LED bulbs come in 5 different colours: blue, yellow, white, and red.
In regards to the LEDs installation, it is extremely simple. Just unmount your illumintaed arcade button, remove the faulty LED from the lamp socket and replace it with the new one. If you change 1 LED from your illuminated arcade push buttons, we recommend that all are of the same type as different LED models will provide a different type of lighting.
Features
High quality LED diffuser
T10 lamp socket
Available in 5 colours
Up to 12V power
Compatible with all our illuminated push buttons
Technical Specifications
Connector

T10

Color

White / Red / Green / Yellow / Blue

Compatibility

LED illuminated buttons

Weight

5gr

Voltage

5V / 12V
Specific References
EAN13

8436593081973
Extra content