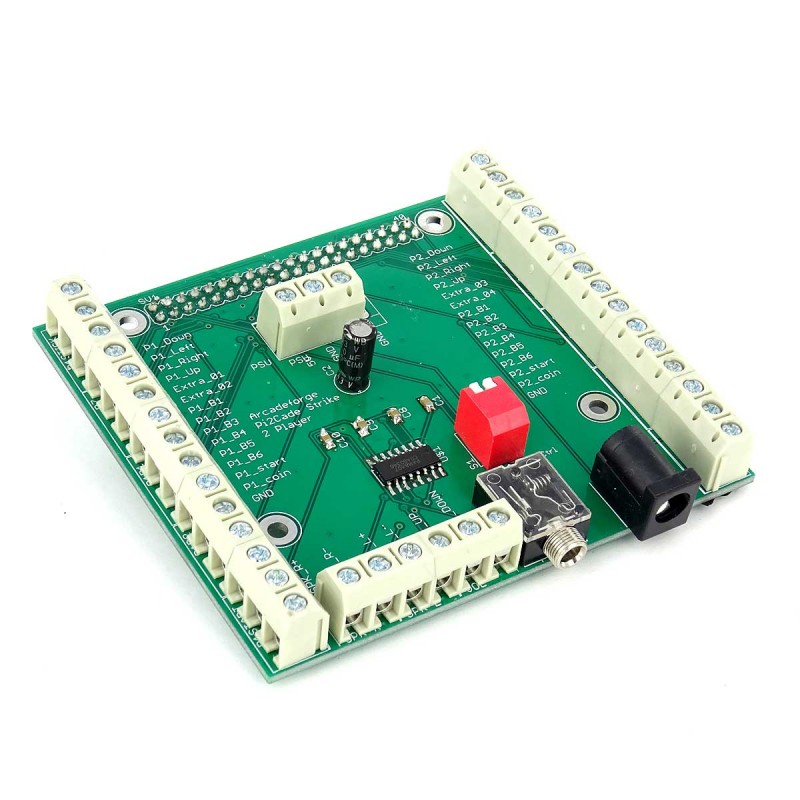  
Arcadeforge Picade 2 Player Version for Raspberry Pi 3B+ / 4
No reward points for this product because there's already a discount.
€42.00
VAT included
Picade 2 Player Version for Raspberry Pi 3B+ y 4. This board is manufactured exclusively for  the Raspberry Pi. It connects to the GPIO port and provides us with 2-player controls and an audio amplifier for our installations in Arcade Machines and Bartops, plus many other features.
You may also be interested in
1 year warranty

Shipments in 24h / 48h

15 day return policy
Description - Arcadeforge Picade 2 Player Version for Raspberry Pi 3B+ / 4
The PiCade 2 Player Version is an exclusive product of the German brand Arcade Forge. This board connects to the GPIO port of our Raspberry Pi and provides us with controllers for 2 players without any LAG at all and without having to use the USB ports. 
The PiCade 2-player version is compatible with both the Raspberry Pi 3B+ and Raspberry Pi 4. Thanks to this board we will be able to connect all our arcade buttons and joysticks through the GPIO port of the Raspberry Pi, thus achieving 0 LAG. The 2-player PiCade allows us to connect up to 32 buttons in total including a credit button and a start button for each player. In addition, the board has 5 ground connections so we have no problem when connecting our Arcade controllers.
This fabulous accessory is compatible with Recalbox, Retropie, Regamebox, Retrogame among other Linux distributions for Rasbperry Pi. In addition, it is compatible with the MK Arcade Joystick Driver. This driver will allow you to add more connections to your Raspberry Pi. In the following link we can see what this project is all about: LINK. A little further down we also have the installation instructions of your arcade controllers depending on the software distribution you want to use.
As for the sound, the PiCade board has an audio amplifier integrated in the PCB itself with a Mini Jack audio connector. This connector has a 2.1mm x 5.5mm inner positive pin for the 5V jack. To connect the board to our speakers we will find screw terminals for left / right speaker and positive / negative connections. The sound volume can be controlled either through software or by connecting extra buttons to the terminals of the board. To choose between these 2 modes the board has 2 DIP switches for this purpose. 
It is important to note that the PiCade 2 Player Version board needs a 5V, 2A power supply for proper operation. This is necessary for the audio amplifier as it requires extra voltage. This power supply can be purchased by clicking HERE or in this same listing along with the Picade board.
Installation instructions
For Retropie follow this tutorial:
https://www.raspberrypi.org/forums/viewtopic.php?t=83317
For Recalbox follow this tutorial:
https://recalbox.gitbook.io/documentation/
For MK Arcade Joystick Driver follow this tutorial:
https://github.com/recalbox/mk_arcade_joystick_rpi
Pinmapping for Extra buttons
Screw Terminal, Pin, GPIO, Comment Extra 01, Pin3, GPIO2, When Dip On connects to Volume Up
Extra 02, Pin5, GPIO3, When Dip On connects to Volume Down. Can be used to for wake up and shutdown as well
Extra 03, 27, GPIO0
Extra 04, 28, GPIO1
Features
Compatible with Raspberry Pi 3B+ / 4
Works with Regamebox, Recalbox, Retropie and other distributions
32 Inputs
Extra 5 Screw Terminals for GND
Lagless controls via wire to wire GPIO connection
PCB Integrated audio amplifier
Audio Jack
Extra 2.1mm x 5.5mm inner plus pole for 5V jack
Speaker terminals left and right, negative and positive
Dip Switch for selecting volume control via software or extra buttons with terminals
40 pin gpio
Compatible with MK Arcade Joystick Driver, see recalbox github.com
Compatible with Adafruit Retrogame Driver
Programmed wake up and shutdown possible

5V PSU needed!
Technical Specifications

Power

5V / 2A

Connections

Screw terminal

Color

Green

Compatibility

Raspberry Pi 3B+ / 4

Dimensions

83 x 77 x 14mm

Weight

78gr
Extra content