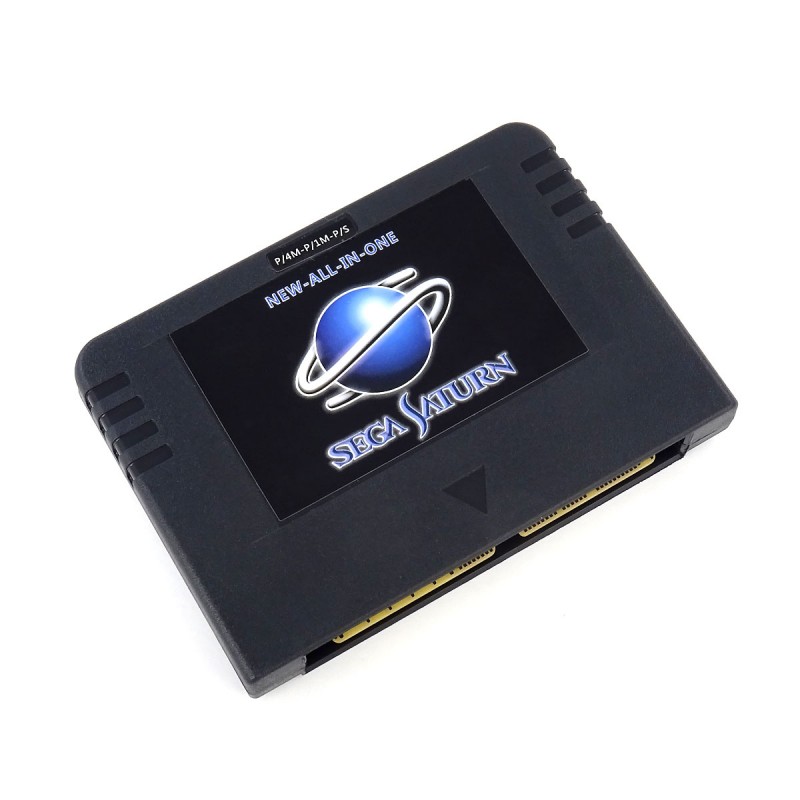  
Pseudo Saturn KAI SEGA 1MB+4MB RAM / 8M ROM Backup Cartridge
By buying this product you can collect up to 11 points. Your cart will total 11 points that can be converted into a voucher of €0.33.
VAT included
Sega Pseudo Saturn Cartridge Version V6.314 All in One 8M Ram backup. This is the 8M Memory and 1-4 RAM CARD version.
You may also be interested in
1 year warranty

Shipments in 24h / 48h

15 day return policy
Description - Pseudo Saturn KAI SEGA 1MB+4MB RAM / 8M ROM Backup Cartridge
The Pseudo Saturn KAI SEGA Cartridge will allow you to load Backups (recorded on CD-R) of any PAL / NTSC region on your beloved and appreciated SEGA Saturn console. It is not necessary to make any hardware modification to the console, just insert the cartridge in your SEGA Saturn and enjoy backup copies of your favourite games.
The Pseudo Saturn KAI SEGA cartridge is compatible with games from USA / Japan / Europe regions on both PAL and NTSC systems. Load backups of both CD-R recorded and games on SD card (in case you have a SD card reader installed on your console).
This is the version with more features and options of the Pseudo Saturn KAI cartridges. This version has 8M of ROM, which enables the possibility of Saving our Games, something that you can not do in other cartridges. In addition, this version has the option to choose between 1M and 4M of RAM, depending on the game we want to run. Let's not forget that there are many games that require expansion of the RAM memory in order to be played.
Another interesting feature of this cartridge is that it has a Cheat Menu which will help us in parts of games that are too difficult. The Pseudo Saturn KAI SEGA also has the option of automatically loading games.
The Firmware installed on this cartridge is version V6.314 but this is updatable via software in case a new version is released. 
Instructions for use
Select the position of the switch on the top of the cartridge considering the following: P/1M for titles requiring 1M of RAM extension, P/4M for titles requiring 4M of RAM extension, P/S to manage saved games. 
To enter the Save Game Menu hold down the L1 button (upper left button) on the controller and start the console.
To enter the Console Main Menu switch the position to P/S, turn on the unit and in the Kai Lite menu select "JHL (PS 0.832)", then press and hold the "Start/A/B/C" buttons at the same time. 
PLEASE NOTE:  Select the position of the switch before turning the console on
Features
New High Quality Cartridge
Load your backups without problems
No Hardware modification required
Compatible with all US /JAPAN/ EUR regions
Play S-aturn CD-R discs in any Region
Game Save function
8M ROM space for game saving
1M+4M RAM Expansion onboard
Firmware Version V6.314 updatable
Cheats menu
Technical Specifications
Color

Red

Compatibility

All Regions US / JAPAN / EUR

Firmware

V6.314

Weight

180gr

RAM

1M + 4M

ROM

8M
Extra content