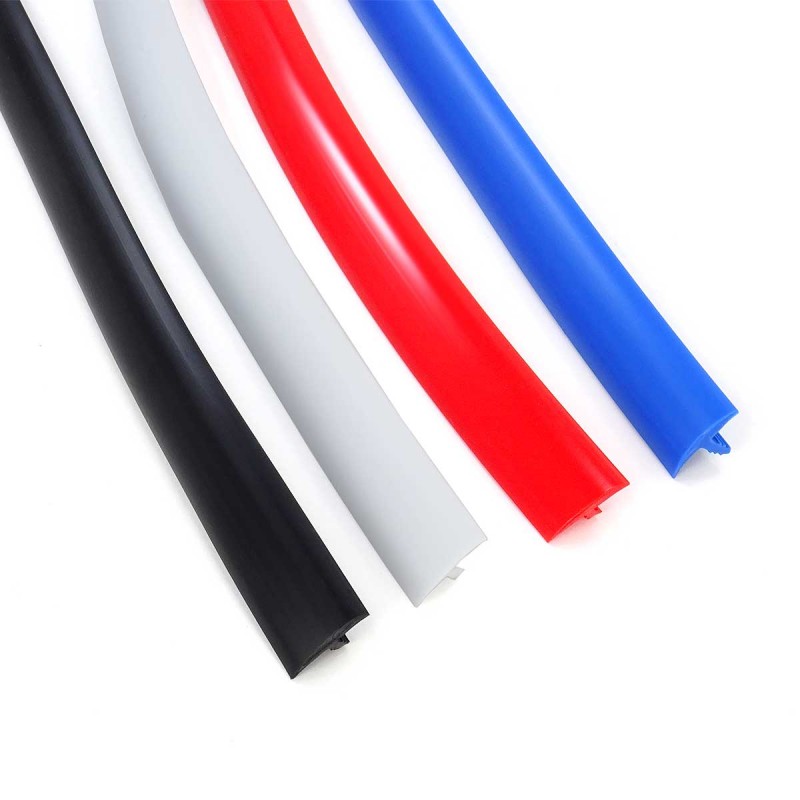  
T molding 19mm 3/4" Arcade Machine / Bartop NEW MODEL!
Highly flexible 19mm molding for 19mm wide panels / arcade cabinets. The perfect accessory for your arcade! (Each purchased unit is equivalent to 1 meter and the strips come undivided).
You may also be interested in
1 year warranty

Shipments in 24h / 48h

15 day return policy
Description - T molding 19mm 3/4" Arcade Machine / Bartop NEW MODEL!
Our Newly designed T-molding! More flexible, malleable and manufactured entirely in Spain. Decorate and protect the edges of your 19mm wide arcade cabinet/ bartop with this 19mm T-Molding of excellent quality and character! 
The type of molding we sell in Arcade Express will give a professional finish to your arcade or bartop machine and differentiate it from lower quality products. 
What is T-molding?
T-molding is nothing more than a T-shaped profile or PVC edgebanding. It comes in different sizes and colors but the most commonly used today is 19mm wide (3/4" ) and of soft/medium flexibility. 19mm wide T-molding is the size most commonly used in the 80's and 90's which was the golden age of arcade machines. It is precisely in the restoration of original arcade machines where 19mm T-molding is mostly used. Although it is important to note that more and more people are starting to use the 16mm wide T-molding as it is the preferred width used today in the manufacture of new Arcade Machines and Bartops.
According to our data, the most sold colors are black and red but as you can see we have a wide range of colours our customers can choose from. In regards to the different available widths,  after the 19mm one, the most sold ones are the 16mm and 10mm.
Use cases of T-molding
They are mainly installed on the edges of the wood used in the manufacturing of amusement machines such as arcade cabinets and bartops. However, there are other sectors that make use of moldings. T-moldings are a very versatile product that can be used in any area of furnitare decoration.
Features of our T-molding
This new design of T-molding is manufactured with a mixture of PVCs materials, elaborated to achieve robustness and great flexibility. The molding is double tinted, achieving a better quality colour plus, a really smooth finish. It is undoubtedly the final touch that will give your Arcade the elegance it deserves. 
At Arcade Express we have placed special emphasis on the design of the outer edge of the molding so that they grip and adjust to the wood almost without the need for glue or adhesives, although we do recommend using some kind of glue so the molding sticks perfectly and doesn't move at all.
All the molding that we sell in Arcade Express have been designed by us exclusively. Both the shape and the width of the molding as well as the wide range of colors we work with. We are in permanent and direct contact with our manufacturers and we always check that our moldings offer the best quality to our customers by offering a premium product.
Each purchased unit is equivalent to 1 meter, i.e., if you order 5 units you will get 5 meters. Our rolls are 100 meter, long, so the customer will get undivided strips. Whether you ask for 1 meter or 20 metres, everything will come in one strip. 
Advantages and disadvantages of T-molding vs. U-molding
A great advantage of using T-molding is that if the bends and corners of our arcade cabinet are very pronounced, the edges of T-molding won't bend, as there are no edges. On the contrary, if we use U-molding in really tight corners a small fold or crease will appear. So, for pronounced corners it is advisable to use T-shaped moldings and not U ones.
Another advantage T-molding has over U-moding is that once installed it gets fixed to the cabinet easier and more consistently than U-shaped moldings. This is because the T-molding is attached to the interior of the cabinet once the edges have been routed. There is almost no need of using glue if done properly, although we always recommend the use of it for a better fixed anchorage of the molding.
A small disadvantage T-molding has over U-molding is that we will have to route the edges of the wood cabinet previously to be able to install the T-molding. This is a job that not everyone is willing to do as you will need to have some tools in order to do it.
How to install the T-molding
Buy cobblers glue. This type of glue is the best for gluing T-molding to the wood.
Apply the glue on the wood and inside the route. With a small brush or paper, apply a small amount of glue, without overdoing it. Do not smear everything because if we put too much glue the molding will not stick well to the surface.
Wait 5 minutes until it dries a little and place the T-molding little by little. It is important to wait 5 minutes for the glue to dry a little so that the T-molding sticks well. If we do not wait it will not stick properly.
ATTENTION: The depth of the slit, route of the board needs to be of 6.5mm approximately whereas the width needs to be between 2mm and 2.5mm at the most.
Features
High quality manufactured in Spain
Exclusive design
Easy installation
Wide range of colors
Soft / Medium flexibility
Inner profile width 19mm
Outer profile width 19.5mm
Profile edge depth 6mm
Technical Specifications
Extra content