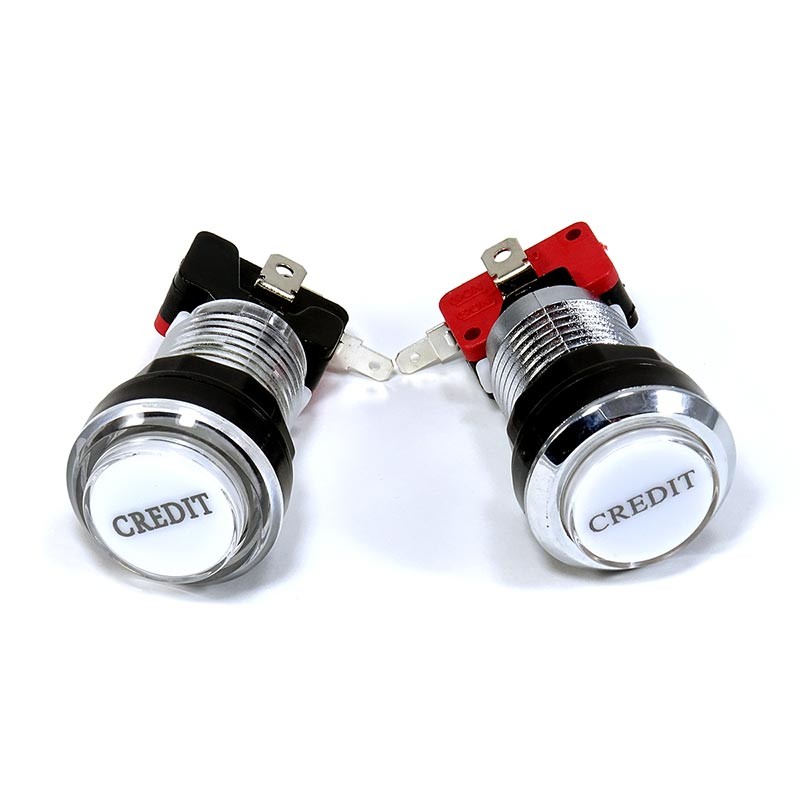  
Illuminated LED Credit Arcade Button
No reward points for this product.
VAT included
Credit button in 2 different models: translucent or brilliant chrome finish. The ideal complement for your Arcade Project.
You may also be interested in
1 year warranty

Shipments in 24h / 48h

15 day return policy
Description - Illuminated LED Credit Arcade Button
Not enough room to put a mechanical coin mech in your Bartop? You don't fell like tossing coins continuously but you want something that resembles inserting a coin? We offer you this magnificent illuminated arcade push button which will simulate adding credits to your arcade.
The Translucent / chrome credit push button includes the microswitch and the LED that allows you to connect up to 12V, although we recommend that you power it with 5V. The inside white bright LEDs will illuminate the credit text giving a decorative, elegant, and also practical touch to your Arcade project.
With a 24mm diameter and an approximate length of 35mm, the pushbutton can be installed on both metal and wooden panels quickly and easily thanks to the Nut Thread Washer system. This push button can be installed in holes ranging from 24mm to 28mm in diameter.
The LED is compatible with both 5V and 12V. In case the LED stops working, you can easily replace it. At our store you can find loose LED lamps that will serve as replacements.
In order to light up the pushbutton, you will need a 5V or 12V power source. We recommend that you either directly get it from the Arcade Machine power supply or from one of the 5V pins on the Xin Mo interface, or the specific Zero Delay LED encoders to light up the LEDs. These Zero Delays are available for 1 or 2 players which are also available at our store.
In short, this is a very affordable product but one that gives an extra touch to your Arcade Cabinet, Bartop or Arcade Project with which you will stand out from the rest.
Mounting Information
To install the LED Arcade push button, you'll need 4.8mm wiring as that is the width of the button action terminals and 6.3mm LED wiring as that is the width of the LED fastons. If you purchase one our interfaces, be sure to select the one with 6.8mm wide terminals wire. You can also purchase extra 6.3mm cables for the Zero Delay LED or the Xin Mo from the links below: Zero Delay / Xin Mo.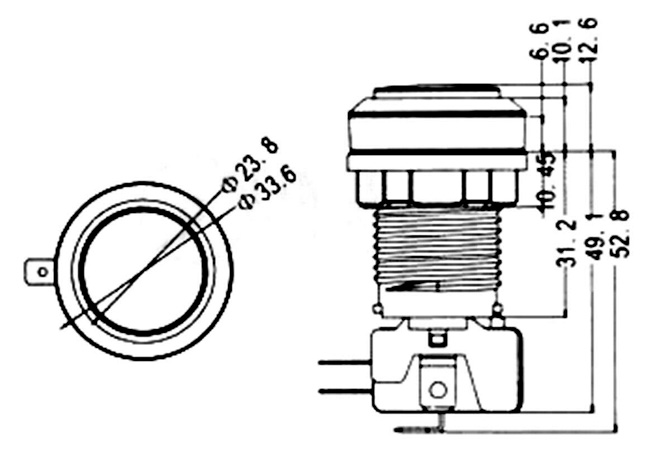 Features
Microswitch and LEDs included
Elegant and practical
In translucent or silver chrome
4.8mm Microswitch
For 24mm-28mm diameter holes
Length 35mm
Metal / wood panels
12V / 5V voltage
Easy installation
Technical Specifications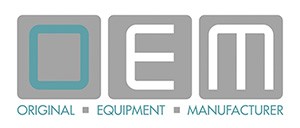 Diameter

24mm

Length

35mm

Microswitch

4.8mm

Weight

20gr

Panel type

Wood / Metal

Button type

LED

Voltage

5V / 12V
Specific References
EAN13

8436593080105
Extra content