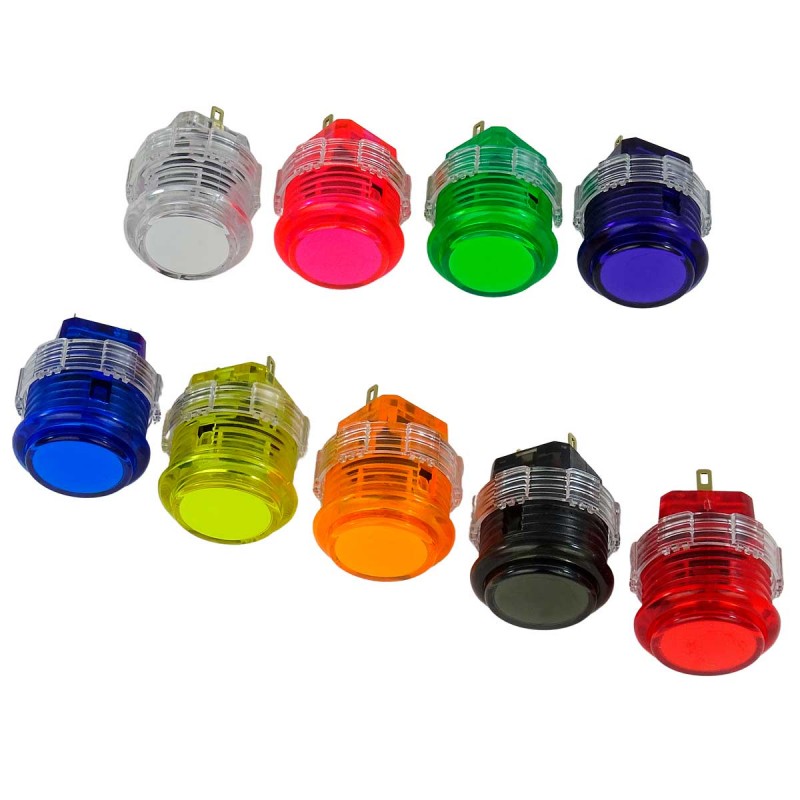  
Crown SDB-202-C MX Cherry Screw In Korean Arcade Button 24mm
Korean Samducksa Arcade Translucid button, Crown model SDB-202-C 24mm, with Cherry MX Speed Silver microswitch.
You may also be interested in
1 year warranty

Shipments in 24h / 48h

15 day return policy
Description - Crown SDB-202-C MX Cherry Screw In Korean Arcade Button 24mm
The SAMDUCKSA Crown SDB-202-C MX translucent arcade buttons with Cherry MX™ Silver 45gr microswitches are a product directly imported from Korea. These are high quality pushbuttons specifically designed to meet the needs of the most demanding players.
The SDB-202-C is an evolution of the original SDB 201 and 201-C series pushbutton, which uses a Cherry MX™ Silver mechanical switch that offers us very high pressing speed capability. Thanks to the Cherry MX™ Silver design, the keystroke of this microswitch does not offer a "linear feel" plus it is silent and we will not hear a "clicky " sound. By "linear feel" we mean that the feel is constant from the moment the button is pressed until it is actuated. The travel distance to actuation is significantly reduced from 2 mm to 1.2 mm, with a total travel of only 3.4 mm.
This superb top-of-the-line button provides a consistent feel from the moment the button is pressed until it makes contact with the microswitch. The Crown SDB-202 MX are supreme quality arcade buttons, manufactured in Korea by Samducksa.
The choice of vibrant colors and translucid design on these buttons allows them to visually stand out on any arcade cabinet, Arcade Stick and the like. The vibrant colors not only add an aesthetic touch, but also make it easy to quickly identify the buttons during gameplay, which enhances the gaming experience. This button is available in up to 9 different colors: green, black, pink, red, blue, white, yellow, orange and violet. These colors closely match the Sanwa buttons and sticks, which ensures the ability to mix and match peripherals seamlessly without any dissonance.
The buttons also feature a thread-type design, meaning they can be easily screwed into place, which ensures secure and stable mounting.The 24mm mounting hole and mounting plate thickness of up to 10mm allow for easy integration into a variety of arcade cabinet configurations or custom controllers.
CHERRY MX SILVER SWITCH
The Micro Cherry MX™ Silver switch provides a smooth and even linear feel when the button is pressed, without any tactile feedback or audible click sound. This switch is an evolution of the Cherry MX™ Red switch, with a shorter travel distance to actuation (1.2 mm) and a total travel of 3.4 mm. The actuating force of the switch is measured in grams (g), with 45g being a common force required to press the button and feel it push back. 

LED illumination
Another curious feature of this push button is that underneath it there are two holes that allow the installation of an LED. This pushbutton can be modded so that diffuse colors shine through the housing, or just below the plunger and cap.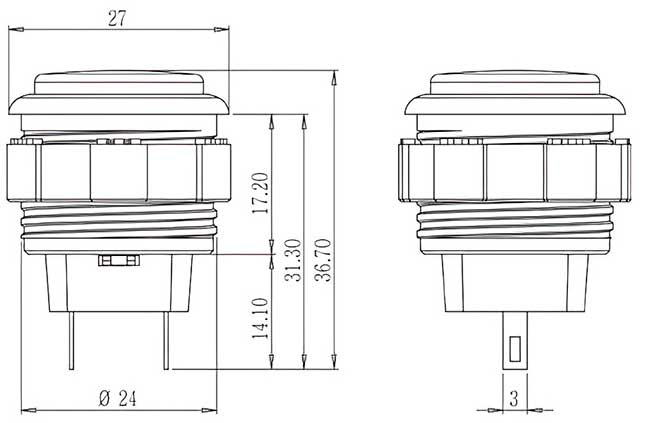 Features
High quality Korean import
Translucid design
Designed for professional gamers
45g Cherry MX™ Silver microswitch
Choice of vibrant colors
Screw-In type button
Ideal for button mashing
Excellent performance and durability
World's best Cherry MX Speed Silver switch
Mounting hole: 24 mm
Mounting plate thickness: 10 mm max
Technical Specifications

Color

green, black, pink, red, royal blue, dark blue, white, yellow, white, yellow

Diameter

24mm

Style

Korean

Microswitch

Cherry MX™ Silver

Weight

10gr

Terminals

2.8mm

Panel type

Metal or wood

Button type

Korean
Extra content