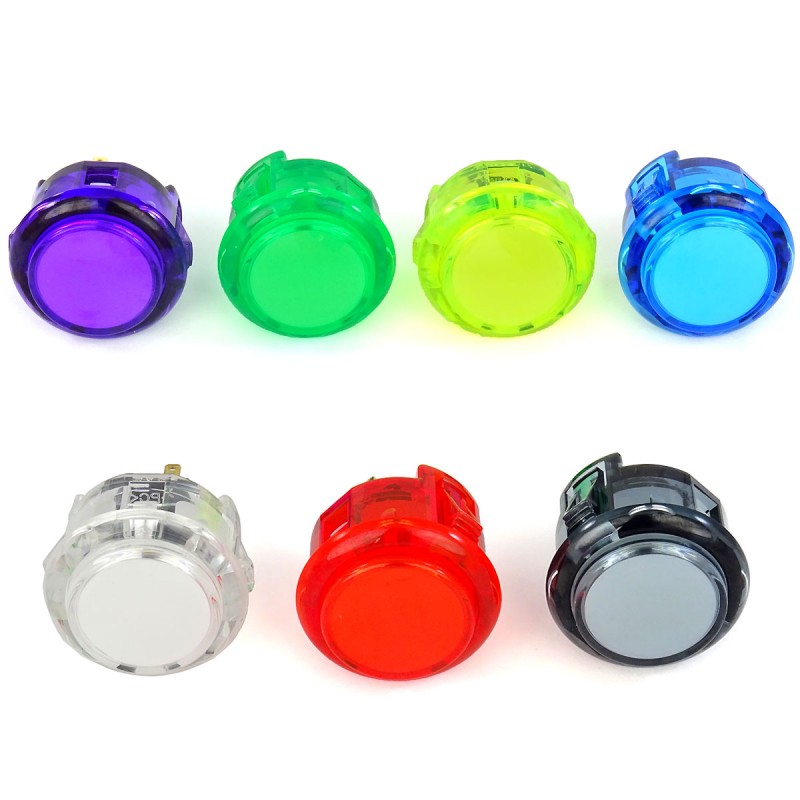  
Sanwa OBSC-30 Translucent Japanese Arcade Button 30mm
Sanwa OBSC-30 convex style translucent buttons. Ideal for fighting games, candy arcade machines and Fight Sticks.
You may also be interested in
1 year warranty

Shipments in 24h / 48h

15 day return policy
Description - Sanwa OBSC-30 Translucent Japanese Arcade Button 30mm
The Sanwa OBSC push button is a new model just added by Sanwa Denshi Co to its wide range collection of buttons. This high-end model surprises for its quality and beauty. Manufactured in translucent PVC, the Sanwa OBSC-30 pushbutton comes in up to 6 different colors: white, black, blue, blue, red, yellow and green. 
Not only does the OBSC comes with the ultrasensitive Sanwa SW-68 microswitch, elevating the gaming experience to a sublime level, being so sensitive, that is activated with the fall of a feather. The Sanwa OBSC button is a great button for gamers who participate in Tournaments and Gaming Competitions. This button, just like its first born brother, the SANWA OBSF, is perfect for fighting games such as the King of Fighters series, Street Fighter 2 and the like, and of course, for the shoot-em-up genre such as Life Force, R-Type, U.N. Squadron, Lords of Thunder, Ikaruga and the like.
This button is ideal for mounting on metal control panels with a thickness of up to 3.7mm maximum and with a mounting hole of 30mm. The button has a plastic clip on each side that locks when mounted on the control panel. We also sell the OBSC version of the OBSC in 24mm buttons. The OBSC-24, which is typically used as a start, select, credit button or for special functions.
The Sanwa OBSC, like the OBSF, are perfect for modding our Arcade Controllers / Fight Sticks: Mayflash F300, Mayflash F500, Fight Stick Pro, Fight Stick Premium, MadCatz Fightstick and Qanba Fighstick among many others. In addition, the Sanwa OBSC can be customized with our own Artwork. This pushbutton can be disassembled in case we wish to insert our own logo or design. To do this we will need to make a circular design with a diameter of 20.7mm.
Mounting Information
To install the Sanwa OBSC you need 2.8mm wiring as this is the width of the pushbutton terminals. If purchasing one of the interfaces we sell at Arcade Express, be sure to select the variant with 2.8mm width terminals. You can also purchase extra 2.8mm wiring for the Zero Delay or for the Xin Mo in  the links below: Zero Delay / Xin Mo.
Features
Product manufactured in Japan by Sanwa
High quality design and manufacturing
Design in glossy translucent PVC
Possibility of modifying with own Artwork
Ultrasensitive microswitches model SW-68
2.8mm Fastons
Smooth to the touch and quiet
Large selection of colors
Ideal for metal panels up to 3.7mm thick
30mm diameter
Technical Specifications

Color

White / Black / Red / Yellow / Green / Green / Blue

Diameter

30mm

Style

Japanese

Material

Translucent PVC

Weight

12gr

Terminals

2.8mm

Panel type

Metal or wood

Button type

Japanese
Specific References
EAN13

8436593083113
Extra content