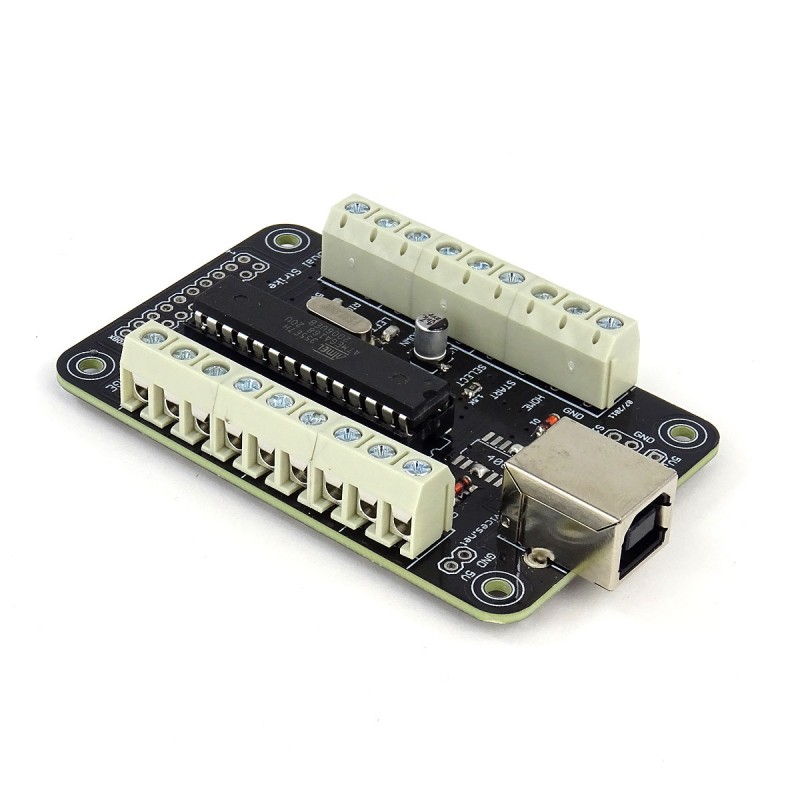  
Arcadeforge Dual Strike USB Encoder
No reward points for this product because there's already a discount.
€30.99
VAT included
USB Arcade Encoder Controller for PS3, xbox1, PC, xbox360 piggy + KeyBoard Encoder. The Dual Strike is compatible with the PS3 home button.
You may also be interested in
1 year warranty

Shipments in 24h / 48h

15 day return policy
Description - Arcadeforge Dual Strike USB Encoder
The Dual Strike USB Encoder from the German brand Arcadeforge is a premium encoder that allows us to connect our arcade controllers to several different systems. This great encoder is compatible with the PS3, Xbox1, PC, Rasbperry Pi (3b+ / 4), Xbox360 piggyback and as a keyboard encoder. It is automatically detected when connected to any of these devices. The Dual Strike encoder has piggyback support for the Xbox360 PCB controllers and is compatible with all PS3 buttons including the PS / Home button.
The Dual Strike can be configured in different modes when playing, as well as a configuration mode for changing settings and a firmware upgrade mode for installing newer (or older) software. The game modes are PS3 gamepad, PC gamepad, MAME keyboard encoder, XBox1 gamepad and pass-trough (e.g. XBox360). These modes can be enabled and disabled via the Config Manager app. For more information we have included a manual which can be downloaded from the following LINK.
This great encoder has almost non-existent LAG. This is because it is programmed as a HID keyboard encoder and not as a joystick. The encoder functions as a game controller on PCs with an operating system that supports HID-compatible USB devices (including Windows 7/Vista/XP/2K/98, Mac OSX and Linux). The Dual Strike also has a joystick mode switch for left analog stick, right analog stick and digital pad (as in MadCatz Fightsticks and Fightpads).
This board has 18 screw connection terminals with separate connection points for all power lines and signals. In addition, this encoder has a bypass function of dual mods compatible with USB (or similar) interfaces such as the XBox360 or Dreamcast. With the Dual Strike we can connect 8 action buttons, the Start / Select / Home buttons and the up, down, left and right of the joystick.
Installation
All connections to the buttons or directions are screwed directly on the side of the board, so the installation requires only a screwdriver and connecting a USB cable to the device used.
The configuration of the USB Dual Strike within emulators and so on is super simple. Once we connect the encoder to a PC, it functions as a MAME keyboard encoder with up to four different button configurations which can be selected while playing without having to reboot the device.
As an extra feature this encoder has a special Hitbox Firmware with SOCD for the Dual Strike. It can be downloaded at the following LINK.
Documents and drivers
Features
PS3, xbox1, PC HID Gamecontroller
Keyboard Encoder designed for default mame button layout
Supports piggyback a xbox360 controller pcb
Auto-Detect consoles PS3, xbox1, PC gamecontroller, xbox360 piggyback
SOCD Cleaner for Hitboxes
Configurable via host software and without
4 different Button Layouts for Keyboard Encoder
Button Layouts can be activated on the fly and in game
MAME Player1 and Player2 button layouts can be switched on one player CPO
18 screw terminal ports for connecting all of your wires
Piggyback encoder for even easier installation of pass-through PCBs.
Integrated switch encoder for USB pass-through functionality. Any two wire protcol can be supplied to the switch
Separate connection points for all power lines and signals
Easy Firmware update
Joystick mode switch for left, right analogue stick and digital pad (like on MadCatz Fightsticks and Fightpads)
Emulation of a joystick mode switch for the pass-through device (like a MadCatz Fightstick and Fightpad PCB)
Technical Specifications

Power

USB

Buttons

8 action / home / start / select / joystick

Connector

USB B female

Connections

screw

Color

Black

Compatibility

PS3 / xbox1 / PC / Rasbperry Pi /xbox360 piggy

Dimensions

75 x 45 x 5mm

Weight

75gr
Extra content